Rugeley Power Station, Staffordshire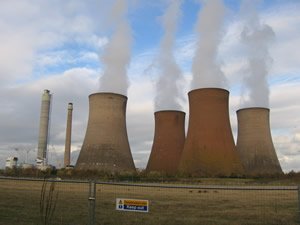 Rugeley Power Station dominates the skyline in Rugeley.
Rugeley Power Station consists of two 500 Mega-Watt (MW) coal fired units that are capable of producing up to 8,760,000 Mega-Watt-hours (MWh) of energy in a year.
Lea Hall Colliery (which closed in the early 1990's) used to supply coal to the power station with a direct link as they were so close to each other. Now coal comes from all over the world to generate the power.
The power station, although industrial, is a beautiful site to behold with the kiln shaped towers.
Links:
---