Fenton, Staffordshire
Factory Shop of Kings Street
Fenton is one of the potteries towns in Stoke on Trent. Fenton is an industrial area and has lots of buildings which were used for the manufacturing of pottery. The river Trent was very important for this as were the canal networks for the movement of the pottery. Sadly many buildings are derelict, but there is much regeneration going on in Stoke on Trent. The surrounding area is residential, many terraced houses were built for the pot bank workers.
on Kings Street
Fenton has architectural heritage including the bottle ovens used for the pottery industry. Coalport and other pot banks (pottery manufacturers) and a Carnegie Library were home to Fenton.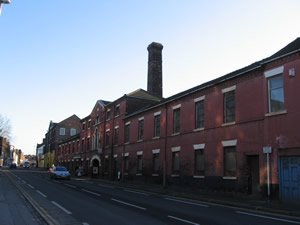 Redundant Pottery Site
Royal Doulton Distribution
Fenton today is mainly residential and industrial. There are some shops and Victoria Road in Fenton is a very popular area for the retail parks, which have a bingo hall, large retail outlets and other shopping needs.
Oatcake Shop on Kings Street
Gala Bingo Victoria Road
Trading Estate
---