Leek, Staffordshire
St Edwards Street
Leek is part of the Staffordshire Moorlands district situated on the River Churnet. It is a pretty little town on the edge of the Peak District with markets and shops. Leek has many antique shops and a large amount of pubs. Its history is based on farming and textiles. The Britannia Building Society has its head office here and the main employment is in near by Stoke on Trent. Leek has many interesting places to see and the locals are a friendly bunch.
Leek has some great markets on Wednesday is an outdoor market for general supplies. On Wednesdays, Fridays and Saturdays in the indoor market located in the old Restored Butter Market. And then on a Saturday is a real treat with an outdoor collectors market, which sells all sorts of things, pottery, jewellery, antiques and much more. Also on the third Saturday of every month there is a fine food market which has won awards, great local produce.
The famous white hart tearooms
Nicholson War Memorial in Derby Street
Brough park Leisure Centre offers swimming, fitness studio, squash, tennis and bowls. Brough park is within walking distance of the town and is ideal for a walk in lovely surroundings.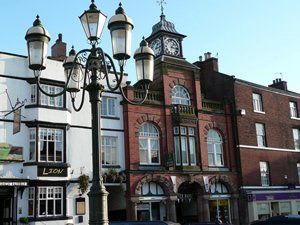 Entrance to the Victorian Butter Market now home to the indoor markets
Ladderedge Country Park Also on the outskirts of the town is a great place to walk and enjoy the wildlife. There are some lovely views of Leek and the Staffordshire Moorlands.
Leeks only medieval church
Many Victorian period, and older, buildings still stand in the town although the original town centre cattle market was demolished and replaced with a bus station and shopping centre in the 1960s. The new cattle market was built on the edge of town adjacent to the railway station. Later, this was one of the stations closed following Dr. Beeching's recommendations. It was later replaced with a supermarket now owned by Morrisons.
St Lukes
Leek was the home of James Brindley, the 18th century canal engineer. He built a water-powered corn mill in 1752. This watermill is now the Brindley Mill museum.
Former Mill
William Morris, founder of the Arts and Crafts movement, lived and worked in Leek between 1875 and 1878. Local rumour suggests that he founded the Society for the Protection of Ancient Buildings in 1877 as a result of his successful campaign to prevent the demolition of the building that now houses Greystone tearoom.
Westwood Golf Club
Leek Post and Times Newspaper Offices
Leek Antiques Centre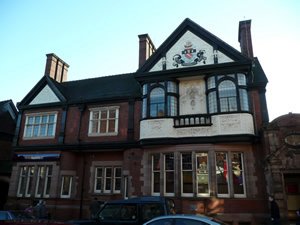 In the arts and crafts style built in 1882 now occupied by the NatWest Bank
Odeon Antiques
Brindley Mill Museum
A watered powered mill built by James Brindley
Location of Leeks first Sunday School
Brittania Building Society a Major Employer in the area
Links:
---