Stoke, Staffordshire
Stoke is one of the pottery towns in the larger city of Stoke on Trent.
The town is quite small but has retail shops and facilities. There is a railway station which serves the city. There are many pottery factory outlets and a large supermarkets. The road links are excellent the town is close to the D road (A500) which runs right through the city. The Trent Mersey Canal runs through which was essential to the pottery industry. Potters such as Spode and Minton were based here.
Entrance to Stoke Station
The Kings Hall is located on Kingsway, it has a ballroom, exhibition hall and theatre, it is an impressive building constructed in 1911. It is adjacent to the town hall. The town hall/King's hall complex serves the City of Stoke-on-Trent well as its chief administrative offices including the Lord Mayor's Parlour combined with all the facilities of the King's Hall for the City's formal entertainment.
The campus of Staffordshire University is located in Stoke, it is a large university and many of the student population live in Shelton, which is a suburb in Stoke.
The main hospital University Hospital of Stoke on Trent is located close to stoke between Stoke and Newcastle. It is a large teaching hospital which covers most areas of medicine.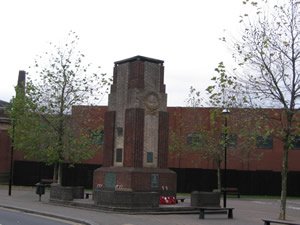 The Cenotaph on the Kingsway
Spode Works
Stoke grew up with the pottery industry, sadly many of the bottle kilns that were prominent in the area have now been taken down. There are still industrial links, with a number of small industrial estates on the outer parts of the town. The famous Caudwell Communications (phones 4U) are located in the old Minton Hollins building, right next to the A500.
The Britannia stadium home to Stoke City FC is located nearby, this was built a few years ago replacing the Old grounds which were closer to the town. The famous boothen end is a favourite with the fans, as that is the name of the old stand in the old Victoria ground.
---