Kidsgrove, Staffordshire
Kidsgrove is a small town in the borough of Newcastle-under-Lyme on the Cheshire border. It is today mainly a commuter town to the nearby potteries towns in North Staffordshire.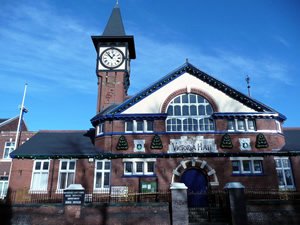 Victoria Hall - Liverpool Road
Formerly a mining area and it sits at the southern most tip of the Macclesfield Canal. Located nearby is the Harecastle Tunnel on the Trent Mersey Canal designed by Thomas Telford.
Harecastle Tunnel
Kidsgrove Post Office on the Avenue
The town is quite small but it does service quite a large surrounding area including Talke and Newchapel. There are a couple of supermarkets and the main shopping street has a number of useful shops. There are some interesting pubs in and around the area, some have canal side locations which are quite pretty. Most people do tend to shop in nearby Hanley in the Potteries which is the major shopping outlet for most of North Staffordshire.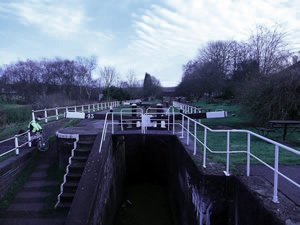 Brindleys Lock at Red Bull
Boats Moored at Red Bull
The Bleeding Wolf Pub Just outside Kidsgrove
Kidsgrove railway station is still in service, it opened in 1848 known as Harecastle (now KIDSGROVE).
Reginald Mitchell the designer of the famous Spitfire aircraft (which can be seen at Hanley Museum) was born in Butt Lane, Kidsgrove. There is a school in Butt Lane named after him. Also famous for this area is the gruesome killer known as the Black Panther (Donald Neilson) who kidnapped a young woman for ransom in the 1970's, he said he never meant to kill her, her body was found in Bathpool Park 2 months after her disappearance in the drainage system.
Mow Cop is just by Kidsgrove which is a village that sits high on the hill, the village straddles the Cheshire/Staffordshire border. Most famous for Mow Cop Castle which is a folly of a ruined castle at the summit of the hill built in 1754.
Mow Cop Castle
Kidsgrove Sports Centre
Little Moreton Hall on the Cheshire Border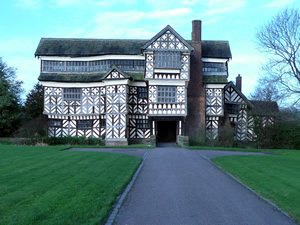 Little Moreton Hall
Links:
---