Tunstall, Staffordshire
Tower Square
Tunstall is one of the six towns of the city of Stoke on Trent. It is the most northern town in the city.
Town Hall
Iron was being produced in the town since approx. 1280. Old tile making and brick making sites were all around the area some dating back to the middle ages. Also Tunstall formed an important part of the pottery industry with the likes of H & R Johnson-Richardson Tiles still in the area. Chatterley Whitfield mines were close by to provide coal.
High Street
Tunstall today is a small town with a high street of shops and a few retail parks. The town is surrounded by terraced houses which were built for the local workers in the pottery industry. There are also more modern housing estates around the area which have been built in recent years. The most famous person from Tunstall in modern times is the singer Robbie Williams who grew up and was educated in the Tunstall area.
Oatcake Shop, Roundwell Street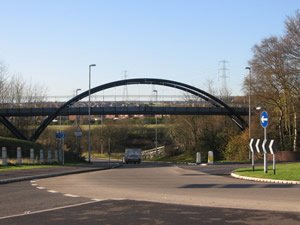 Site of a former bridge which transported coal from Whitfield Colliery
Tunstall Park Lake
Links:
---