Hanley, Staffordshire
Statue of Sir Stanley Matthews CBE
Hanley is one of the pottery towns in Stoke on Trent. Hanley would today be considered as the main town for culture and shopping in the city.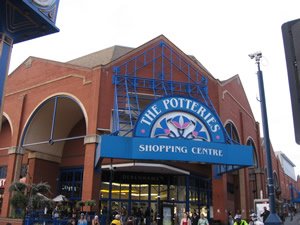 Entrance to the Shopping Centre
Hanley has the Potteries Shopping Centre which is quite large and has an array of retail outlets. The town centre also offer a good mix of retail outlets, pubs and cafes.
Market Day on Fountain Square
Hanley Museum
The town is home to the Potteries Museum and Art gallery located in the cultural quarter. This is home to an orginal world war II spitfire and an amazing collection of Staffordshire Pottery and ceramics.
Tontine Square
There are theatres including the Regent Theatre which is very special. They have a really good variety of productions throughout the year.
The Regent
Reginald Mitchell Pub (former Meat Market
There are plenty of restaurants, night clubs and entertainment to enjoy an evening out.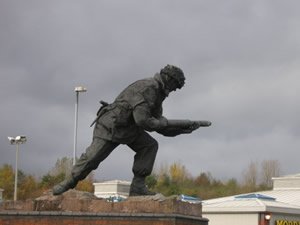 Festival Park Statue in Memory of Lance SGT JD Baskeyfield VC
The Moat House
Just outside the town is Festival Park, this is a large retail and entertainment estate. There is a huge cinema complex, skiing, waterworld, Ten Pin Bowling and various large retail stores, such are Toys R Us. There is a large hotel called the Moat House.
Water World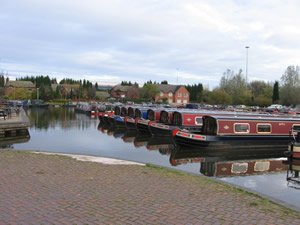 The Marina
The canal runs through festival park and there is a nice pub located by the marina. The china gardens offers pretty views of the moored canal boats.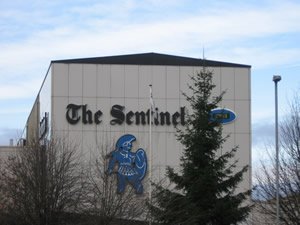 The Sentinel Offices
Festival Park is in Etruria where there is a train station and a museum. Also home to the Sentinel Offices, which is the local newspaper. The main arterial roads run through this part of the the city.
Northwood Stadium nearby offers a great deal of sporting activities and events.
The Park
Hanley Forest Park offers some lovely outdoor space, with a big lake and plenty of walking spaces to enjoy. Located on the site of the Hanley Deep Pit
Hanley Forest Park
The Entrance to the Park
Hanley is very industrious, there are business parks, factories, warehousing and many small business premises around the area.
BBC Radio Stoke on Cheapside
The housing is primarily terraced closer to the town as this was built for the local workers in the pottery industry. There are some larger properties in the suburbs surrounding Hanley.
Hanley is a bustling place with a huge amount of culture.
Mitchell Memorial Theatre
Hanley Town Hall
At the Potteries Shopping Centre
Links:
---